DEFINITIONS:
Orchestra: A group of musicians of multiple instruments ...especially string players organized to play ensemble music.
Big Band: A band that is larger than a combo and that usually features a mixture of ensemble playing (and multiple players for each instrument) and solo improvisation typical of jazz or swing. (Strings...such as violins are usually not included...Bass and guitar are part of the rhythym section. Originally, some bands used violins but the clarinet eventually took over for that sound.)
Combo: A small band using single instruments and emphasizing improvised solo performance from each instrument. Typical combos are trios, quartets, quintets or sextets and almost always includes piano.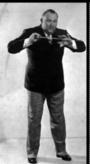 PAUL WHITEMAN: Born 1890--Died 1967
The Paul Whiteman orchestra was the most popular ensemble of the 1920s. Although many jazz artists did not consider the sound as "Jazz", the orchestra and Whiteman created an interest in the new sound that was a benefit to those who followed.
Many later recognized jazz musicians came out of his group including Bix Beiderbecke, Frankie Trumbauer, Eddy Lang, Joe Venuti and Jack Teagarden. One of his most noteworthy contributions to American music was to commission George Gerswin to write "Rhapsody in Blue".
Whiteman was billed as the "King of Jazz" at that time. The argument today might well be that if there is such a thing as the King of Jazz, the title belongs to to Louis Armstrong. However, his interest in Classical versions of Jazz (also known as Symphonic Jazz) probably had an influence on later Jazz musicians such as Miles Davis and Gil Evans...The Modern Jazz Quartet ...Winton Marsalis and even Duke Ellington whom he commissioned to write for his modern music series.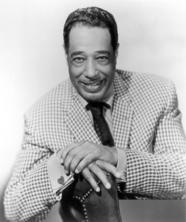 Edward Kennedy "Duke" Ellington: Born Apr.29,1899 - Died May 24, 1974.
The Dukes' most famous quote..."I live my life with an unquenchable thirst for sharps and flats...Living in a cave, I am almost a hermit, but there is a difference, for I have a mistress...Music is my mistress and she plays second fiddle to no one."
Born in a middle class family in Washington D.C. Ellington took piano lessons as a child and wrote his first composition..."Soda Fountain Rag"... at the age of 16. After leaving school at age 16 he worked as a sign painter and a clerk while leading his first band. In 1922 moved to New York where he studied Jazz piano from James P. Johnson and Willie "The Lion" Smith. The next year he organized his first band, did a nightclub engagement and wrote the score for "Chocolate Kiddies"...a show which featured Josephine Baker and Adelaide Hall...which had a long enngagement in Berlin.
A composer, bandleader and pianist, Ellington wrote more than 2000 compositions, from short pop tunes to very complicated symphonic scores. Billy Strayhorn (He wrote "Take the A train")...Ellingtons composing and arranging soulmate...was probably the most important factor in the bands success. When Strayhorn died in 1967, Ellington said "he was my right arm, all the eyes in the back of my head, my brainwaves in his head and his in mine."
We say Thanks to the "Duke" for Satin Doll...Mood Indigo...In My Solitude...Sophisticated Lady...Do Nothing 'Til You Hear From Me...etc, etc, etc.

Louis Armstrong: (A chronological bio on Armstrong can be viewed on "The Horn Players" page.)
When Armstrong died at age 71, Duke Ellington said "If anyone was Mr. Jazz, it was Louis Armstrong. He was the epidome of jazz and always will be. Every trumpet player who decided he wanted to lean towards the American idiom was influenced by him...He is what I call an American standard, an American original...I love him...God bless him."
Armstrong led many bands and combos in his career including the "Hot Five" and "Hot Seven" combos whose recordings had an great influence on generations of musicians. As a singer his "jazzy" style can be seen in the work of Billie Holiday, Ella Fitzgerald, Cab Calloway and Mel Torme. He ws the first to leave the melody...during his flights of improvisation...creating new melodies. This is still the way Jazz is played. His ryhthmic style was the transition from rigid ragtime to free-flowing "swing". "King of Jazz'...gets my vote!!!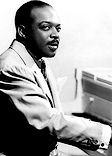 William "Count" Basie: Born April 21,1904 in Red Bank, N.J. USA-Died April 26,1984.
The "Count" was an important figure in American Jazz. His mother got him started...teaching him piano...at an early age. He met James Johnson and "Fats" Waller... with whom he informally studied more piano...after moving to New York. Before the age of 20 he had become a well traveled pianist on the vaudeville circuit.
In 1927, Basie settled in Kansas City where he played with the Benny Moltin Band. When Moltin died, Basie formed his own band called "The Barons of Ryhthm". This group had a national radio show and in 1936 signed with Decca Records.
Basie is known for having the hardest swinging band of the '30s and '40s. Benny Goodman said that "after his own band Basies' band was the best. Basie performed less beginning in the early '70s. After his heart attack in 1976 he only performed in very special appearances. The "Count' was 79 years old when he died on April 26, 1984.


The Dorsey Brothers Ochestra:Tommy and Jimmy Dorsey first teamed up together on records as the Dorsey Brothers in 1928 but the groups they led through 1933 were strictly studio affairs, featuring classic jazz and hot dance music along with some ballads. In 1934 they decided to put together a regular orchestra and by 1935, with Bob Crosby (and later Bob Eberle) taking the vocals and Glenn Miller providing many of the arrangements, the group was on the brink of success in the early swing era. However a well-publicized argument at a ballroom over the tempo of "I'll Never Say Never Again Again" led to Tommy Dorsey immediately leaving and starting his own separate orchestra. By 1953 both brothers had had major success with their bands and had long since patched up their differences. Because their orchestras were struggling, it was decided that Jimmy would break up his band and co-lead Tommy's. For nearly four years the Dorsey Brothers Orchestra featured first-class dance music with occasional solos from trumpeter Charlie Shavers and the two brothers; they also had their own television show. With Tommy's sudden death in November 1956 (Jimmy followed seven months later), the partnership came to an end. ~ Scott Yanow, All-Music Guide
RETURN TO TOP OF PAGE
HOME PAGE
THE PIANO PLAYERS
THE HORN PLAYERS
THE WOODWINDS
RHYTHM/PERCUSSION
THE SINGERS
Sign My Guestbook
View My Guestbook