THE FEMALE ARTISTS
Women artists have left their mark in Jazz... despite the obstacles of male dominance... because their instrument has most often been the human voice. The voice...as an instrument of emotional expression...allowed women to combine emotion with musicianship. Here are some of those talented artists who have left a mark on the music field...especially Jazz.

Bessie Smith: Born 1894--Died 1935.
Bessie Smith is undoubtedly the most important woman in the history of American music. "She was the first to change a folk expression into an indigenous art form by successfully blending African and Western modes of music," said Rosetta Reitz, a jazz historian. "The blues-jazz she sang is the most significant base of America's contribution to world culture: blues and jazz."
Born in a one-room shack in Chattanooga, Tenn., Bessie Smith sang on the streets of Chattanooga collecting nickels and dimes tossed by people passing by. She became recognized in 1923 when she recorded "Down Hearted Blues." for Columbia Records. She continued gaining fame with recordings "Tain't Nobody's Bizness If I Do," "Back Water Blues" and "Poor Man's Blues".
These numbers all illustrated black culture in the 1920s. In 1929, Smith recorded "Nobody Knows You When You're Down and Out." Smith also collaborated with major jazz performers of the era, among them Louis Armstrong ("St. Louis Blues") and Benny Goodman ("Gimme a Pigfoot"). She died from injuries received in an auto accident in 1935.


Billie Holiday: Born 1912 or 1915? - Died 1959.
Born in Baltimore to parents who were in their early teens. Her father left when she was a baby and her mother left her with unloving relatives. Her career began when she talked the manager of a local club into letting her sing a few tunes with the house band - she made $57.00 in tips.
In 1933 John Hammond...who discovered her...arranged her first recording session with Benny Goodman. Her early bands were organized by pianist Teddy Wilson. She joined the Count Basie band in 1937 and established a lifelong relationship with Lester Young (Prez).
in 1939 she introduced "Strange Fruit" & "God Bless the Child". In 1946 she gave a triumphant concert at Town Hall and appeared in the film "New Orleans". In 1947 she was arrested on a drug charge and served 8 months in prison. She toured Europe succesfully in 1954 but was arrested again in 1956 and entered a clinic. Her drug addiction finally claimed her life on July 17, 1959. She was portrayed in the movie "Lady Sings The Blues" by Diana Ross.


Sarah Vaughan: Born 1924 - Died 1990.
A child prodigy Vaughan won an amateur contest...in 1943... at Harlem's Apollo Theater... joined Earl Hines' band as both singer and second piano player. The next year...at age 20.. she became an original member of Billy Eckstine's big band and began a long career of recording. Though she recorded many albums throughout her career...with big bands or full ochestras... her live concerts usually consisted of piano, bass, and drums.
Vaughan is considered to be the most natural jazz vocalist ever...making the lyrics come alive, whether on ballads or pop numbers. She used her voice creatively, as an instrument capturing the mood of any tune. Because of her versatility, Vaughan was able to successfully perform in the field of traditional and improvisational Jazz as well as commercial "Pop" music.


Ella Jane Fitzgerald: Born April 25, 1917, Newport News, Virginia - Died June 15 1996.
After moving to New York, after her fathers death, Ella sang with a glee club at school and showed early promise. Winning an amateur contest at Harlem's Apollo Theatre, was the most important stepping-stone in her career. She was heard by Linton, who sang with the Chick Webb band at the Savoy Ballroom. Webb hired her and she quickly became the band's main attraction.
Fitzgerald then began her solo career, recording many popular songs. In the late 40s she signed-up with agent Norman Granz. It was Granz's brilliant control of her career that establish her as one of America's leading jazz singers. However...even with the high quality of her jazz work, it is as a superior singer of popular songs that Fitzgerald is most important and influential.
In the mid-80s Fitzgerald's career was at a virtual standstill due to deteriorating health. In April 1994 it was reported that both her legs had been amputated because of complications caused by diabetes. She lived in reclusion at her Beverly Hills home until her death in 1996.

OTHER GREAT FEMALE SINGERS
"Ma" Rainey
Carmen McRae
Diane Shuur
Shirley Horn
Betty Carter
Josephine Baker
Etta Jones
Cleo Laine
Louise Gibbs
Pearl Bailey
Nancy Kelly
Alberta Hunter
Helen Forrest
Nancy Wilson
Margaret Whiting
June Christy
Lena Horne
Rosemary Cloony
Ruth Etting
Connie Francis
Paula Kelly
Peggy Lee
Helen O'Connell
Jo Stafford
Kay Starr
Martha Tilton
Dinah Washington
Diana Krall


THE MALE ARTISTS
Many of the male vocalists were (are) members of a band...Tex Beneke for example...and much like the female singers worked in both the jazz and pop fields. The list is countless but here are a few I think are true jazz artists.

Mel Torme:Born Sept. 13, 1925, Chicago, Illinois - Died June 7, 1999
Torme (a child prodigy) made his first appearance at age 4 and began his full time professional career in the early 1940s as a boy singer with Chico Marx's band where his smooth style earned him the nickname, "The Velvet Fog". He formed his own vocal group, the Mel-Tones, which included a young Les Baxter and Ginny O'Connor. The Mel-Tones were among the first of the jazz-influenced vocal groups, and paved the way for the Hi-Los, Manhattan Transfer and other vocal groups.
In 1947, he went solo, and has stayed in steady demand, since then. He had one #1 hit, "Careless Love," in 1949, and several minor hits, among them "Mountain Greenery" in 1956 and "Comin' Home, Baby" in 1962. Torme was also an excellent song writer. His "The Christmas Song" first recorded in 1947 by Nat King Cole, is a popular Christmas standard. One of my personal favorites is "Born to be Blue".
Until suffering a stroke in August 1996, Torme performed regularly. We jazz fans mourn his parting and give tribute to his gift of true Jazz...to the world.

The son of a grocer and Italian-born immigrant, Anthony Dominick Benedetto was born in Astoria, Queens (New York City). He grew up singing and drawing pictures, and now enjoys a flourishing second career as an artist painting under his own name.
About his "big break" in show biz... "My scuffling years began to end in 1949," he recalls, "when I auditioned for a revue that Pearl Bailey was in at the old Greenwich Village Inn. Bob Hope heard me in the show and asked me to come up and sing at the Paramount Theater with him. He didn't like my stage name (Joe Bari) and asked me what my real name was. I told him... Anthony Benedetto. He thought a moment and said..."That's too long for the marquee. We'll call you Tony Bennett."
"So I started this crazy adventure that has lasted forty years," he sums up. "I had hits like...Because of You...Just In Time...Cold Cold Heart...Stranger In Paradise...and Rags to Riches." I became international in 1962 when I recorded "I Left My Heart in San Francisco," for which he won two Grammy awards (Record Of The Year and Best Solo Vocal Performance--Male). (excerpts from his autobiography)


Ray Charles: Born Sept. 23, 1930 --
Born in extreme poverty, Ray Charles was blind by the age of seven, due to glaucoma. He learned to read and write music in braille and became proficient on several instruments. Charles drifted around the Florida circuit before moving to Seattle, where he played piano at several nightclubs. At that time he was playing and singing in the "Nat King Cole style". He began recording in 1949. His individual style developed over the years.
In addition to his spirited style...almost gospel... Charles was equally at home at slow ballads. His recordings encompassed blues, jazz, pop standards and even country. In 1959, Charles joined ABC Records, where he enjoyed both musical and financial freedom. Early releases 'Georgia On My Mind' and 'Hit The Road Jack' brought him international fame.
His influence is wide-spread, his talent widely acknowledged and imitated.He has been honored with countless awards, including induction into the Rock And Roll Hall Of Fame in 1986, and receiving the Grammy Lifetime Achievement Award in 1987. In recent years he has returned to his "father of soul music" form with "My World" and "Strong Love Affair." He is truly the FATHER OF SOUl.

OTHER GREAT MALE SINGERS
Frank Sinatra
Louis Armstrong
Tex Beneke
Harry Babbit
Johnny Desmond
Ray Eberle
Bob Eberle
Billy Eckstine
Woody Herman
Al Hibbler
Herb Jeffries
Johnny Mercer
Joe Wlliams
Lou Rawls
Bobby McFerrin
Vic Damone

THE VOCAL JAZZ GROUPS

In 'Vocal Jazz' the human voice is "played" like any jazz instrument...trumpet, saxophone, bass, etc. The only difference is " you add the words and the "feeling" only the voice can produce. Jazz is more then just a melody and syncopated beat...it portrays a unique feeling of the musician.

THE MEL-TONES(1943-1946)
Oganized by Mel Torme the Mel-Tones were a swinging but ill-fated vocal group that stuck together for three or four years but never quite made the big time. Mel was working in Hollywood and recruited students from Los Angeles Ciy College to form the quintet.
Mel was working on a film (Pardon my Rhythm) at Unviersal. Mel played some drum solo spots and featured the Mel Tones. Les Baxter, who did some of the arrangements for the picture, joined the group as the bottom voice, but it was Mel who wrote all the Mel-Tones' arrangements.
From an interview with critic Leonard Feather (Downbeat) on June 13, 1956 Mel said "I lost my shirt with the Mel-Tones," Mel said, "But there were some really good musical results... Musicraft teamed us with Artie Shaw's band, and we made an album of Cole Porter songs... Woody Herman happened to hear one of the numbers, "Get Out of Town."... He called Carlos Gastel and told him he thought I could make it on my own as a singer. You know Carlos...he couldn't wait, he had to call up at 3 o'clock in the morning and wake up my mother, father, and me and tell me to get down to see him right away! "The Mel-Tones played one final gig, at the Golden Gate theater in San Francisco...strangely enough that was exactly where the Marx band had played its last date before breaking up."
The Mel-Tones were the first of this form of jazz and greatly influenced the formation of future groups...and of course Mel did pretty good for himelf too!


THE FOUR FRESHMEN
Organized in 1948 at Arthur Jordan Conservatory of Music in Indianapolis, Indiana, the Four Freshmen became successors of the Mel-Tones and were a great influence for the Hi-Lo's, the Beach Boys, Manhattan Transfer and countless other close-harmony groups. The group originally consisted of Bob Flanigan, his cousins Ross Barbour and Don Barbour and Hal Kratzsch. Originally the the group was "Barber-Shop" and then formed a more jazz-oriented second group, called the Toppers. in 1948.
Inspired by Mel Torme's Mel-Tones, the new group, renamed the Four Freshmen, was discovered in September 1949 by Woody Herman. In 1950 Stan Kenton arranged for them to audition for Capitol Records, who signed them. after hearing the quartet in concert in Dayton, Ohio. Their first hit single came in 1952, "It's A Blue World", reached number 30 in the USA. They had many hit records during their career and the personel changed frequently...however the original style and quality has been consistant over the years. The latest Four Freshman line-up toured the UK in 1992, backed by Ray McVay's UK All-Star Big Band.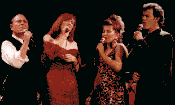 Manhattan Transfer began as a dream by Tim Hauser, who was paying his bills doubling as a marketing executive and a New York cab driver. He gathered together Laurel Masse, Janis Segal and Alan Paul, and the four of them went on to make music history. The original band was formed in 1969, performing good-time, jugband music.
Although they covered a variety of styles, their trademark was their use of exquisite vocal harmony. Like their Atlantic stablemate, Bette Midler, they were selling nostalgia, and they were popular on the New York cabaret circuit. An unlikely pop act, they nonetheless charted on both sides of the Atlantic. It was symptomatic of their lack of crossover appeal that the hits were different in the UK and the USA.
Their versatility splintered their audience. Fans of the emotive ballad, 'Chanson D'Amour', were unlikely to go for the brash gospel song 'Operator', or a jazz tune like 'Tuxedo Junction'. In 1979, Cheryl Bentyne replaced Masse without noticeably affecting the vocal sound. Their stunning version of Weather Report 's 'Birdland' remains a modern classic. The power of Manhattan Transfer is in their sometimes breathtaking vocal abilities, strong musicianship and slick live shows.
Encyclopedia of Popular Music Copyright Muze UK Ltd. 1989-1998.

OTHER GREAT VOCAL GROUPS

The Modernaires
The Hi-Lo's
The Mills Bro's
The Ink Spots
The Pied Pipers
New York Voices

JAZZ HOME PAGE
THE PIANO PLAYERS
THE HORN PLAYERS
THE WOODWINDS
PERCUSSION-RHYTHM
BANDS/COMBOS
Sign My Guestbook
View My Guestbook