Charles Mingus: Born 1922 in Watts District, Los Angeles; Died 1979 of Lou Gehrig's Disease
Mingus was a Double Bass Player; Piano Player; Composer; Vocalist; Arranger; Philanthropis. At his first recordings...to be included among the royalty of King Oliver and Duke Ellington...he dubbed himself "Baron Mingus".

Mingus recorded over fifty albums and composed about 300 numbers. He is as well-known for his compositions and arrangements as he is for his playing.

In addition to his own bands and combos, Mingus has played with Duke Ellington, Stan Getz, Art Tatum, Charlie Parker, and Dizzy Gillespie ...just to name a few. His bands ranging in size from three to eleven members included Jimmy Knepper, Booker Ervin, John Handy, Eric Dolphy, Rooland Kirk, Jaki Byard, and Dannie Richmond. A well rounded Jazz musician, Mingus ranks high among the greats.

Bob Haggart: Born March 12 1914, New York City, New York.
After formal training on guitar and self-training on the trumpet and piano, Haggart switched to bass, on which he is also self-taught. He became a recognized performer when he joined the former members of the Ben Pollack group who formed a co-op band under the nominal leadership of Bob Crosby.
Haggart's contribution to the band's success extended far beyond his role as a member of the rhythm section. He arranged several of the band's most popular numbers, including 'South Rampart Street Parade' and 'Dogtown Blues'.
In 1942 Haggart left the Crosby band, turning to studio work and arranging for many artists, including Louis Armstrong. In the early 50s he joined with his old partner drummer and formed the Lawson-Haggart Jazz band which became very popular. Haggart is still a popular figure at reunions of the Crosby band, touring the USA and Europe... as bandleader and sideman... and recording. He is also responsible for at least one jazz standard, the ballad "What's New?".
OTHER GREAT BASSIST'S

William Parker
Ray Brown
Arvel Shaw
Pete Wahington
George Morrow
Curley Russel
Tommy Potter
Nelson Boyd
Paul Chambers
Ron Carter
Gene Ramey
Marcus Miller
Charlie Haden


...THE GUITARIST'S...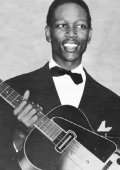 Charlie Christian: Born July 29, 1916 in Bonham, Texas...Died March 2,1942
Remembered most as a pioneer of the amplified electric guitar Charlie played in a family orchestra (quartet) with his father and two brothers. Charlie was the first to exploit the unique possibilities of the electric guitar allowing him to play horn-like lines...he became known for his single string lead style and riffs.He joined the Benny Goodman orchestra in 1939
In later sessions involving, among others, Dizzy Gillespie, Kenny Clarke, and Thelonious Monk, Charlie was a part of the influence in the creation of bebop. According to Mary Lou Williams he was one of the very few musicians who could run changes with Thelonius Monk. Barney Kessel is his most influenced successor.
From Gunther Schuller's The Swing Era: "There can be little doubt that at the time of his death in 1942 Christian was on the threshold of becoming a major voice, perhaps, had he lived, the major voice in shaping the new language of jazz. All the greater the tragedy of his loss, one that has, I believe, not yet been fully fathomed and appreciated.
Herb Ellis: Born August 1921, Farmersville, Texas.
In 1941 Ellis attended North Texas State College. After graduation, he played guitar in a number of big bands...including the Casa Loma Orchestra and the Jimmy Dorsey Band. In 1953 took Barney Kessel's place in the Oscar Peterson trio... he remained for five years with the great bassist Ray Brown.
For the next four year Ellis accompanied Ella Fitzgerald and also worked with Julie London then spent ten years in the Los Angeles film and television studios. In the early 70s he began working with other guitarists, including Joe Pass, Charlie Byrd and Kessel.
In his playing, Ellis's deep feeling for the blues and his earthy quality sets a standard few of his peers can match. As a soloist he is outstanding and his "blues" playing leaves the audience wanting more!!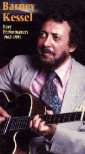 Barney Kessel: Born October 17 1923, Muskogee, Oklahoma.
After playing in various bands, Kessel established a name for himself on the west coast. From the mid-40s he was in great demand for studio work, jazz record sessions, club and concert dates, and on tours with Jazz At The Philharmonic.
He performed with Charlie Parker, Oscar Peterson, Billie Holiday and Harry Edison. By the mid-60s he was one of the best-known and most-recorded guitarists in jazz. In the early 70s, he teamed up with Herb Ellis and Charlie Byrd to perform as the group "Great Guitars". Kessel's versatility ensured that he was always in demand.
In a jazz context he plays in a boppish style but with his own unique style. In person, Kessel has a swift sense of humour, a characteristic which often appears in his music. Since suffering a stroke in 1992, Kessel is making a slow recovery...hopefully with more to come from this man of great talent.
OTHER GREAT GUITARIST'S
Albert "Eddie" Condon
Joe Pass
Charlie Byrd
Wes Montgomery
George Benson
Pat Metheny
Larry Carlton
Charlie Harden
Claud Williams
Freddy Green
Gary Burton



THE DRUMMERS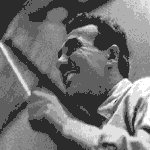 Gene Krupa: Born Jan. 15 1909-Died Oct. 1973.
Born in Chicago...Krupa was a talented drummer and bandleader...working in a number of bands in Chicago during the Twenties.He became popular as the energetic, showy drummer in Benny Goodman's groups during the mid-thirties. His drum solo was a sensation on the hit recording "Sing, Sing, Sing".
He formed his own band which worked until 1951. He started touring with "Jazz at the Philharmonic". In 1954 he founded a school of percussion in New York with Cozy Cole. The last 20 years of his life was spent teaching, studying timpani, and ethnic drumming concepts.
He recorded with many Jazz greats including Benny Goodman, Roy Eldridge, and Anita O'day.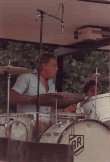 Bernard ("Buddy") Rich: Born September 30 1917, New York City-Died. April 2 1987.
Rich achieved considerable fame as a drummer and tap dancer..beginning at age two... performing on Broadway as a member of his parents' act. At the age of 11 he formed his own band and within a few more years was attracting attention sitting in with bands in New York clubs. He played in several important bands of the swing era including those of Bunny Berigan, Harry James, Artie Shaw and Tommy Dorsey.
In addition to having his own band he worked with Les Brown... became a regular with Jazz At The Philharmonic...and played with the Big Four, led by Charlie Ventura. He recorded with Art Tatum, Lionel Hampton, Ray Brown, Oscar Peterson, Flip Phillips, Dizzy Gillespie, Roy Eldridge, Louis Armstrong, Lester Young, Gene Krupa and many others. Riches playing was characterized by his phenomenal speed and astonishing technical dexterity.
Known for his "wit"...and a regular on t.v. talk shows...in his final days a nurse asked if he was allergic to anything...Rich answered "only country music".

Max Roach: Born 1925 in Northland, North Carolina-
One of the most influential jazz drummers...Max is also an excellent composer. In 1942 he worked in Harlem with pianist Thelonius Monk alto saxophonist Charlie Parker and other jazz musicians... experimenting with a style that would be later known as bebop jazz, or bop.
Roach was one of the first drummers to use the cymbal for the basic rhythm instead of the bass drum. He became the leading drummer of the bop movement. In the 1960s Roach recorded albums emphasizing the black-American cultural arts movement and racial equality.
A frequent solo performer he has also composed music for musicals, motion pictures, television, and symphony orchestras.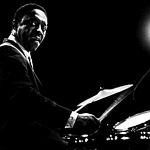 Arthur Blakey: Born October 11 1919, Pittsburgh, Pennsylvania-Died 1990.
Blakey was a pianist before switching to drums. He drummed for Mary Lou Williams on her New York debut in 1942.. Fletcher Henderson's mighty swing orchestra (1943-44)... and the Billy Eckstine band that included Charlie Parker, Dexter Gordon,Dizzy Gillespie,Miles Davis and Thelonious Monk (1944-47).
Although classic bebop sessions tended to have Max Roach or Kenny Clarke behind the drums, Blakey became the leader of the "hard" bop movement. Miles Davis once remarked "If Art Blakey's old-fashioned, I'm white".
Until his death in 1990, Art Blakey continually found new musicians and put them through his special discipline of hard work and precision. When he played, Blakey always had his mouth open...a picture of pleasure and concentration.

OTHER GREAT
DRUMMERS

Shelly Manne
Charlie Parsip
Stan Levy
Jimmy Cobb
Billy Higgins
Elvin Jones