Benjamin David "Benny" Goodman:Born May 30, 1909...Died June 1986:
Benny grew up in a Chicago ghetto. His first clarinet and musical training was from a local synagogue. He continued his study through a social-service agency for the under privileged.

Goodman studied with Franz Schoeppe, a noted teacher of claasical music, for two years, emerging a skilled musician. Fourteen-year-old Benny helped support his family, after his father died, by playing at a Chicago neighborhood dance hall and working locally for two years. He was hired in 1925 by bandleader and drummer Ben Pollack.

Pollack took the band to New York in 1928 and where Goodman joined Red Nichols in 1929. In 1933 Goodman contracted to record for Columbia's English market... which was more receptive to jazz than were Americans. Goodman hired Teddy Wilson and Lionel Hampton for his small combo, which also included drummer Gene Krupa... the group became the first interracial jazz group to perform in public.

In 1934, Goodman purchased from bandleader Fletcher Henderson several of the big-band arrangements. Henderson's "hot" material was not well received at first, because fans were accustomed to hearing a white band play "sweet" music. At a dance in Los Angeles's Palomar Ballroom on August 21, 1935, Goodman's combo , boldly called for Henderson's "hot" numbers and the crowd went crazy. This performance probably marked the advent of the Swing Era.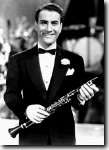 Arthur Jacob Arshawsky ("Artie Shaw "): Born May 23 1910, New York City.
Shaw started playing the alto saxophone at the age of 12 and a few years later began playing in a Connecticut dance band. He switched to the clarinet inn 1926 andfor the next three years worked in Cleveland, Ohio, as arranger and musical director for Austin Wylie.
In 1936, Shaw formed a band which included strings for a concert and, with the addition of regular dance band instruments, secured a recording contract. In April 1937 he organized a big band that was an immediate success. In 1942 he led a band in the US Navy which included several leading jazzmen.
After the war he formed a band that featured Roy Eldridge, Dodo Marmarosa, Barney Kessel, Chuck Gentry, Stan Fishelson and other top musicians. Most of his bands were short-lived and during the rest of the 40s Shaw periodically formed bands only to break them up again within a few months. By the mid-50s he had retired from music and spent much of his time writing.
Stylistically, Shaw's playing was perhaps slightly cooler than Goodman's, although his jazz sense was no less refined. Like Goodman, Shaw was a technical marvel, playing with remarkable precision yet always swinging.
Peter Dewey Fountain, Jr. Born July 3, 1930 in New Orleans.
Pete's famous club in New Orleans has become his major gig. He plays the music he loves and appears regularly on network television shows. He has made more than 58 performances on the "Tonight Show" and has had four command performances at the White House for Presidents of the United States.

Pete has recorded more than 92 albums, three of which have "gone gold". His recording... titled "Paradise" features Pete playing arrangements for clarinet, four trombones and rhythm section.

Since the early '50's, Pete has been a force of influence in preserving and furthering the development of the clarinet in jazz. Although it is difficult to describe his playing, his music incompasses the best of swing, blues and New Orleans jazz. Pete Fountain's many contributions to Jazz truly make him a living legend...one of the greatest clarinet players of the century.
OTHER GREAT CLARINET PLAYERS

Eric Dolphy
Don Byron
Eddie Daniels
Tony DeFranco
Ivo Papasov
Jimmy Dodds
Barney Bigard
Alcide Nunez

THE SAXOPHONISTS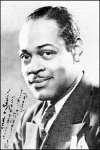 Coleman Randolph Hawkins: Born November 21 1901, St. Joseph, Missouri, USA, Died May 19 1969.
Coleman Hawkins ("Bean" and "Hawk") was the first great tenor saxophone player of modern jazz. Starting with piano lessons at the age of five he later learned cello. At the age of nine he took up tenor saxophone and proceeded through his career to make the instrument a serious means of expression.
He joined Fletcher Henderson's Orchestra in 1924. In his ten years with the band he transformed the tenor sax into a vehicle for the powerful and suave solos that are the essence of swing.
His death from pneumonia in 1969 marked the end of an era; he was a jazz master whose life-work stretched across six decades of the music's history.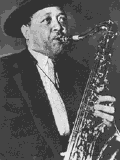 Lester Young: Born August 27 1909, Woodville, Mississippi, USA...Died March 15 1959.
Born into a musical family, Lester learned to play several instruments from his father. In his early years he played drums in the family's band. Around 1928 he switched to tenor saxophone and joined the Art Bronson band in Phoenix, Arizona.
In 1936 he joined Count Basie, touring, broadcasting and recording. He also recorded in small groups directed by Teddy Wilson including several backing Billie Holiday. They formed a special and lasting relationship...She nicknamed him "Pres" or "Prez", for president, and he named her the "Lady Day."
In the mid-'40s Young's health began deteriorating. He continued to record and make concert and festival appearances and was featured on television's "The Sound Of Jazz" in 1957. In his final years some observers think that...towards the end... he lost the will to live.
Many important tenor saxophonists have come on the scene, since Lester Young died, but few have had the impact of this unusual, introspective, sensitive and musical genius of jazz.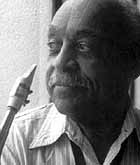 Benny Carter: Born 1907 in New York-
His mother gave him his first piano lessons at age 10. His early jazz influences were Bubber Miley and his cousin, noted trumpeter Cuban Bennett. Benny became very skilled on both trumpet and saxophone.
In 1925, he attended Wiberforce College in Ohio briefly, then went on the road with Horace Henderson's band. He had short stays with James P. Johnson, Fletcher Henderson, and Duke Ellington then worked for over a year with Charlie Johnson. In 1931 he became the musical director for McKinneys Cotton Pickers. During this period, Benny wrote arrangements for Ellington, McKinney's, Henderson, and Benny Goodman. On saxophone, Benny cites Frankie Trumbauer as his main influence. After a period in England, Benny returned to the US in 1938, recording with Lionel Hampton and re-forming his own band.
Since the mid 1940's, he has spent most of his time in Hollywood writing sound tracks for movies including Stormy Weather, The Snows of Kilamanjaro, The View From Pompey's Head, The Five Pennies, The Gene Krupa Story, and Martin Scorcese's Too Late Blues . His TV credits include M Squad, the Chrysler Theater, and the Alfred Hitchcock series.
Charles ("Charlie" "Bird") Christopher Parker, Jr.: Born 1920 - Died 1955. Charlie Parker, along with Dizzy Gillespie and Thelonius Monk, would lay the foundation for a new movement in music called "BeBop" or "Modern Jazz." Charlie was a bright student... at the age of 13 he discovered jazz... His good-hearted mother sacrificed and bought him an old alto Sax... Charlie taught himself to play...At the age of 15 he quit school and started the drug habit which would claim his life at the young age of 34... His idol was Lester Young and he tried to memorize all his solos.
In 1943 he joined the Earl Hines band and started working regularly with Dizzy Gillespie. Bird and Diz practiced improvised scales and melodies at incredible speeds...the birth of the bebop sax-trumpet lines. After ruining a recording session and setting fire to his room he was committed to Camarillo State Hospital for the mentally ill. (July, 46 - January, 47) The inspiration for his famous tune, Relaxin' at Camarillo. On March 12, 1955 Charlie Parker died at a friend's home.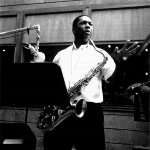 John William Coltrane: Born September 23 1926 in Hamlet, North Carolina.
From the very earliest moments of his life, Coltrane was exposed to music both in his home and in the religious experience of the southern African-American church. In 1957, Coltrane, a respected but unheralded 30-year-old saxophonist underwent a profound personal religious transformation inspired by his introduction to the beliefs and discipline of Islam. This led Coltrane into a short retirement during which he overcame his addictions to alcohol and heroin.
Coltrane returned in late 1957 and produced some of his greatest works. Coltrane sought to inspire people to live meaningful lives.
Coltrane's quest to express his spiritual growth through his music led to the rapid progression of his music through the 1960s.
Paul Desmond (Paul Emil Breitenfeld): Born November 25, 1924 - San Francisco, CA...Died May 30, 1977 - New York, NY.
Paul Desmond is best known for playing alto sax with Dave Brubeck's Quartet from 1951-67. He reached fame with his composition "Take Five", which the Dave Brubeck Quartet recorded in 1959.
Some of his best work was with a quartet he led with Jim Hall on guitar. They recorded 50 tunes from 1959 to 1965 including classics like "I Get a Kick Out of You", "East of the Sun", and "Take Ten"...a takeoff on "Take Five".
Desmond also recorded two albums with Gerry Mulligan, and three with Chet Baker. Near the end of his short-lived career he led his "Canadian Quartet" with Ed Bickert on guitar, Don Thompson on bass, and Jerry Fuller on drums.
Stan Getz: Born February 2, 1927,in Philadelphia...Died 1991.
At the age of 12, Getz had his first musical instrument...a harmonica. He then started playing the bass in the Jr. High School band.     When he was thirteen his father bought him an alto-saxophone...Stan fell in love with music...took lessons on different kinds of saxophones, and decided that the rich sounding tenor saxophone was his favorite.
  At age 16 sixteen (1943) played with Jack Teagarden's band...He joined Stan Kenton's big band in 1944...played with Jimmy Dorsey in 1945... played with Benny Goodman in 1945 and 1946.  He began getting recognition when he was a part of Woody Herman's "Second Herd" from 1947 to 1949. During the fifties, he was one of the most popular jazz musicians.  During the decade he played with Jerry Mulligan, Jimmy Raney, Lionel Hampton, Harry "Sweets" Edison, Horace Silver, Jimmy Rowles, and Oscar Peterson.
He fought problems with drug addiction...thru the 60's and 70's...worked a lot in Europe...returned to the U.S. and did a lot of work in Latin Jazz. He recorded a lot in the 1980s and did so right up to his death from cancer in 1991, when he was 64 years old.  He made over 300 recordings.  What sets him apart from other tenor saxophonists is his rich and pure tone.  He was one of the greatest jazz saxophonists ever.
OTHER GREAT SAXOPHONISTS

Jerry Mulligan
Ben Webster
Harry Carney
Brandford Marsalis
George Coleman
Fred Anderson
Ornette Coleman
Sonny Rollins
Tex Beneke

RETURN TO TOP
JAZZ HOME PAGE
THE PIANO PLAYERS
THE HORN PLAYERS
RHYTHM & PERCUSSION
THE SINGERS
BANDS/COMBOS
Sign My Guestbook
View My Guestbook